Indian Musical Instruments – Vaadya

Musical instruments have very important place in Indian Music. Indian musical instruments are divided into 2 major categories:
1. Percussion Instruments - A percussion instrument is any object which produces a sound when hit, shaken, rubbed, scraped or by any action which sets the object into vibration. The term usually applies to an object used in a rhythmic context or with musical intent. There are two types of percussion instruments in India.
a. Membranous Percussion Instruments (Avanaddh) - These are instruments that produce sound with strike-able membranes, mostly of weathered leather. Tabla, Dholak, Dhol, Daff, Damroo, Mridangam, Nagada, Pakhawaj, Khol (Mridangam), Nal (Dholki) etc. are examples of Membranous Percussion Instruments.

b. Non-Membranous Percussion Instruments (Ghan) - These are instruments that do not have strike-able membranes, and sound is produced by striking metal or clay. Chimta, Ghatam, Manjeera, Ghungaroo, Jal-Tarang, Kartal etc. are examples of Non-Membranous Percussion Instruments.
2. Non-percussion Instruments - Instruments used to create melody rather than the rhythm are classified as Non-percussion Instruments. There are two types of Non-percussion instruments.
a. Wind Instruments (Sushir) - These instruments are sounded by blowing air through them. Bansuri, Harmonium, Shehnai, Nadaswaram, Shankh, Pungi etc. are examples of Wind Instruments.

b. String Instruments (Tantu)- Instruments sounded by striking or rubbing their strings. There are two types of string instruments.
i. Plucked String Instruments (Tat) - These instruments are played by plucking or striking the strings. Sitar, Tanpura, Veena, Vichitra Veena, Saraswati Veena, Ektara, Sarod, Surbahaar, Surmandal, Rebab, Santoor etc. are examples of Plucked String Instruments.

ii. Bowed String Instruments (Vitat) - These string instruments are bowed. Chikara, Dilruba, Sarangi, Ravanhasta, Taar Shehnai, Israj etc. are examples of Bowed String Instruments.


Membranous Percussion Instruments (Avanddha)

Chameli

This instrument is Indian equivalent of the African instrument Djembe. It has membrane on only one side and has a typical torch shaped body. It is used for accompanying certain folk dances.


Dholak 
Dholak is a two sided barrel shaped North Indian instrument with a thin leather membrane on right side and a thicker leather membrane with special clay mix applied on the inside of left side. This allows the instrument to produce heavier bass beats from left hand and shriller treble beats from right hand. Traditionally the tuning of the instrument is adjusted with cross winding ropes but contemporary versions also have metal turnbuckles for tuning. Dholak is an indispensable instrument for light music and is used amply in Bhajans, Bollywood songs and Qawwalis.
Dhol
Dhol is a very popular two sided barrel or cylindrical shaped North Indian instrument very similar to Dholak but larger in size and differs from Dholak in that sides are struck with sticks rather than hands. Although Dhol is prevalent in most of East, West and North India, it is most commonly used in Punjab specially while performing the famous Bhangra dance.
Daff / Daflee
Daff is an Indian flat drum with leather membrane on one side of a large wooden ring. It is used mostly in Folk music and frequently employed by Bollywood music directors. Daflee is a popular version of Daff which has metal sounders at Perimeter of Daff. 
Dumroo
Dumroo is probably the oldest form of percussion instrument in India. It is the only remaining form of hour-glass drums which are so commonly seen in ancient Indian statues. Its musical role is minimal and it is most commonly known for its association with Lord Shiva and monkey charmers. It is historically important in that it is considered the forefather of all two sided membranous instruments.
Mridangam
Mridangam is an indispensable South Indian percussion Instrument and holds same importance in Carnatic music as Tabla in Hindustani music. Its form is very close to Pakhawaj and differs in that the coating on left side is temporarily done with flour dough and has to be removed after each performance.

Pakhawaj 
Pakhawaj is said to be originated from Dumroo and is considered to be the oldest percussion instrument in India as far as musical relevance is concerned. It is also a two sided leather membrane instrument with special clay mix (Masala) applied to both sides for sweeter sounds. Its mode of playing is similar to Tabla, but in a Dholak like fashion. Pakhawaj is a North Indian Instrument.
Tabla 
Tabla is a pair of drums originated by dividing the Pakhawaj into two parts and closing the open ends. It is played in upright position with left hand playing the bass (Baya) and right playing the treble (Tabla). Both the drums have clay mix applied to them like Pakhawaj. Tabla is a North Indian Instrument.
Non-Membranous Percussion Instruments

Chimta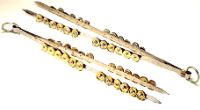 Chimta literally means a fire tong shaped tool used in traditional Indian kitchens to fetch Rotis from clay ovens and roasting pans. The musical version has brass jingles attached to the tong. It is mostly used in Punjabi folk songs and dances. Punjabi Shabad (an equivalent of hindi Bhajans) is traditionally accompanied with Chimta.
Ghatam 
Next only to Mridangam, Ghatam is also an indispensable percussion instrument in South Indian Classical music. Literally, Ghatam means a fired clay pot, which is traditionally used by Indian households to keep water cool in summers. The musical version has a thicker shell created with special clay mix for superior sound. It is played by closing the mouth of Ghatam with stomach, which is opened as and when required to achieve desired bass, while the round base is struck with palm and fingers.
Ghunghroo
Ghunghroo has its roots in traditional Indian ornament Payal, which was and is still worn on ankles by ladies, mostly to indicate their presence, or declare their arrival. This was eventually picked up by Kathak dancers to accentuate their dance steps. The traditional form of Ghunghroo has bells woven on a series of strings, but the contemporary models have bells attached to cushioned pads (indicated in illustration). These provide more comform to the dancers.
Jal-Tarang
Jal Tarang is a unique instrument in that it is both a percussion as well as non-percussion instrument. Basically, it is a series of china clay bowls of descending size layed in a circle, or row or any other convenient configuration. These bowls are tuned to the notes of Raag being played by adjusting the amount of water held. When struck with chop-stick like strikers, these bowls produce very sweet sound and can be used to play solo with accompaniment of Tabla, or as an accompanying persussion instrument, mostly for dances.
Kartal
Kartal is a pair of wooden blocks with brass jingles. One block has a circular hole where the thumbs fits, and the other has a larger opening for the remaining four fingers. These two are struck to produce a characteristic wooden sound with metal overtones. Although it is seen being used in some folk music forms, Kartal is traditionally used to accompany devotional music like Bhajan and Kirtan. In North-east India, a   form of Manjeera is known as Kartal, and is entirely different from the one explained above.
Manjeera 
Manjeera is a pair of cymbals tied together with a string. Traditionally made from brass, Manjeera has been used to accompany Bhajans and Kirtans ever since the metal percussion instruments were created. A larger form of Manjeera is known as Jhanjhar.
Wind Instruments (Sushir) 
Bansuri
Bansuri is Indian flute that can be found in both upright (fipple) and side on (transverse) styles. The traditional Bansuri is made of wood. The fipple style flute also comes in metal, but   its use is limited to light music and Bollywood songs, because the fipple style doesn't provide the luxury of   embouchure (adjustment of position of lips and tongue while playing), that the transverse style provides.   This is the reason why transverse wooden flute is considered to be the real Bansuri and the only form of   flute accepted as fit for playing Indain classical music. Bansuri is also known as Murali and Venu, and is   associated with Lord Krishna. Sometimes Lord Krishna is addressed as VenuGopal or Muralidhar (meaning   one who plays flute).
Been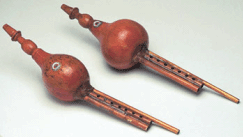 Been is a flute like wind instrument made with wood and Gourd. It has three sounding pipes, out of which only one has holes though with notes are controlled. The other two pipes provide the drone. It is not a classical instrument and has been traditionally used by snake charmers all over India. It has been applied with great success in Bollywood songs for movies made on stories based on snakes.
Harmonium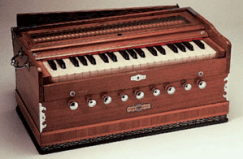 Harmonium is not a genuine Indian instrument and is not accepted by pundits as a pure instrument in Indian classical music. However, it has found its due respect in the lighter forms like Bhajans, Ghazals, Qawwalis and Bollywood songs. Basically it is a keyboard with metal reeds that is played by pumping air into the box with one hand, while the keyboard is played by the other. A form of Harmonium known as Sur-Peti doesn't have any keys, and is used as a drone.
Nadaswaram

Nadaswaram or Nagaswaram is a large south Indian wind instrument very similar to Shehnai (see below). It is a 2 reeded instrument and is considered auspicious, and hence played in south Indian temples and in weddings or other religious ceremonies.
Shehnai

Shehnai is North Indian version of an Oboe. It is a close relative of Nadaswaram, only smaller in size and has 4 reeds instead of 2. Like Nadaswaram, it is also considered to be an auspicious instrument and is traditionally performed in temples or religious ceremonies. It is a must in any North Indian traditional wedding. Ustad Bismillah Khan immortalized this instrument though his mesmerizing performances.
Plucked String Instruments (Tat)
Banjo (Bulbul Tarang)
Banjo or Bulbul Tarang is considered to be Indian version of a Japanese instrument called Taisho-koto. Basically, it is a set of wooden keys or finger board placed over a set of strings, all tuned identically (to the same note). It is struck with right hand and keys are played with left hand. There is also a single string version of Banjo which is more commonly used in Bollywood music. Because of its ease of playing and cheap price, it is very popular in Indian households, and is amply used by folk artists.
Ektara

Ektara literally means a single stringed instrument in Hindi. It is constructed out of a gourd by passing a thin bamboo stick through it and tying a metal string that spans from bottom of gourd to top of bamboo stick. It is played as a rhythm accompaniment for folk songs in North and East India mostly in Rajasthan, Punjab and Bengal. It is known for its association with Saint Meera.
Rabab
Originated in Afghanistan, Rabab is an ancient stringed instrument made out of hollowed out wood covered with leather membrane. A series of Nylon and metal strings pass over the bridge which rests on the stretched leather membrane, imparting Rabab its characteristic timbre. Although it is a struck instrument, it is considered to be the forefather of many bowed string instruments such as Sarangi.
Santoor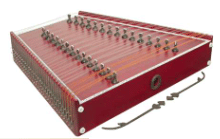 Indian version of Santoor is an offshoot of the much wider Persian variety. Basically it is a 24 to 100 stringed hammered dulcimer, struck with wooden mallots to produce sound. Owing to the large number of strings, there is no standard way of tuning the instrument, and every artist adjusts the tuning to some degree, to suit his style of playing. It was very popular in Kashmir and eventually got accepted all over the North India. Pandit Shivkumar Sharma has been instrumental in getting it accepted as an instrument of merit as far as Classical music is concerned.
Veena
Veena is probably the oldest form of Indian stringed instruments, traditionally associated with Goddess Saraswati (Goddess of Knowledge). Listed below are some popular forms of Veena.
Rudra Veena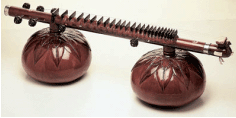 Very rare these days, it is a form of Veena constructed out of two large gourds connected with a thick bamboo stick, which carries the strings. It is played in upright position.
Saraswati Veena

The original form of Veena very popular in South India, Saraswati Veena is a 4 stringed instrument constructed entirely out of wood, most commonly out of jackwood. The resonator like piece seen at top of neck is actually non functional and is mostly used to rest the Veena on ground. It also has three drone strings which may are also used for providing taal while playing.
Vichitra Veena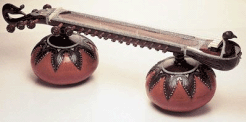 Exclusively used in South India, Vichitra Veena is a form of Rudra Veena that is played like Hawaiian Guitar, with a metal bar.
Sarod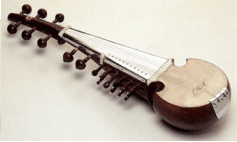 Sarod can be most simply described as a form of Rabab that doesn't have any frets. It is not very old and probably evolved in the previous 150 years or so. Ustad Amjad Ali Khan has been instrumental in making this instrument popular all over the world.
Sitar
Thanks to Pandit Ravishankar, Sitar is probably the most well known Indian Instrument outside India. It has a main resonator and a secondary resonator, both made out of gourd and connected with a wide wooden shaft that has upto seventeen strings. Out of these, only three or four are playable strings, whereas another four strings are used as a drone to provide taal while playing. The remaining dozen strings or so are sympathetic strings that are never played, but resonate when corresponding note is played, imparting the Sitar its characteristic timbre.
Surbahaar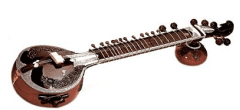 Surbahar's construction is identical to Sitar. Very simply put, Surbahar is to Sitar what a Bass guitar is to Guitar. Surbahar is tuned an octave or two lower than Sitar. Owing to its inherent nature of providing intense Meend , many Sitarists use it to play Alaap, but shift to Sitar when they want to play Jhala or higher notes.
Swarmandal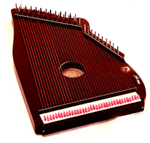 A Surmandal literally means a group of notes in Hindi. It is Indian equivalent of an Harp and is used as a drone by vocalists.
Tanpura

Tanpura is a Drone instrument very similar to Sitar in appearance, only it doesn't have the top resonator and frets. Hence, melodies can not be played with it. It has four or five strings tuned to the tonic. The Miraj version is most common in North India, whereas the Tanjore version, also known as Tamboora is popular in South India. Tanpura is known for its rich drone and its timbre is most readily identified as a typical Indian sound.
Bowed String Instruments (Vitat)
Chikara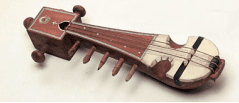 Chikara is a basic spike fiddle that is played like Sarangi (see below).
Dilruba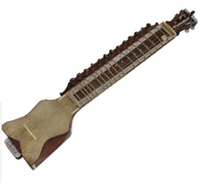 Dilruba is a hybrid that combines the best of Sitar and Sarangi. One can consider it a Sitar played with a bow in Sarangi style. It is played mostly in North and West India. Its sound and style of playing are very similar to Esraj (see below).
Esraj

The technique of playing and sound being almost same, Esraj is often confused with Dilruba. We can look at it as an Eastern version of Dilruba.
Sarangi

Probably the most well known of Indian bowed string instruments, Sarangi is unique in that it is played by sliding fingernails on the strings rather than pressing them to touch the fingerboard. Being extremely difficult to play, its popularity is dwindling. It is traditionally played with Semi-classical vocal forms such as Thumri, Dadra and most commonly used to accompany Kathak performances.