Classical Dances of India
Natya Shastra, probably the oldest manual on science of theatre in the world, confers a prime place to dancers on the stage. In ancient Indian theatre, dancers performed to songs sung in the background. Although the context has changed, the same logic has been carried forward in Indian movies, where choreography and playback singing are still indispensable parts.
History of Dance in India has been a very complex and controversial subject, but for the purposes of this site, we can conclude that whatever the process may have been, there exist only six classically acceptable dance forms in India, namely Bharatnatyam, Kathakali and Kuchipudi from South India, Odissi and Manipuri from East India and Kathak from North India.
Each of these dance forms has been described in brief below.
Bharatnatyam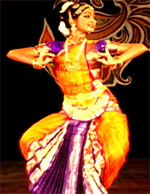 Performer unknown,Photograph courtesy http://in.geocities.com/medhahari/bharatnatyam/bharatnatyam.html
Originating in Tamilnadu, in its present form, Bharatnatyam is probably the youngest of the six classical dances of India, since it was formalized as recently as 1930s! But when taken in its entirety, it may be the oldest dance form of India. Whatever be the fact, Bharatnatyam is one of the two most popular classical dance forms of India outside of India, along with Kathak (see below). It is said to be a hybrid of two ancient dance forms, namely Dasi Attam performed by Dev-Dasis in temples, and Sadr, a dance form popular in palaces of South India. Thus, having its roots in temples, Bharatnatyam is understandably a predominantly devotional dance form that has components describing and praising the Gods.
Kathakali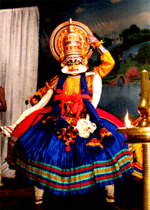 Performer – Kalamandalam Kuttanasan,Photograph courtesy www.wikepedia.com
Hailing from Kerala and readily recognizable by the costumes and makeup of its artists, Kathakali is the most dramatic of the six classical dances of India. In fact, due to its evolution amongst the masses and partly due to its predominantly local recognition, this dance form has had to fight for its right to be counted as one of the classical dances. Even today, most hardliners consider it to be just an old and traditional dance form rather than classical. It is known for its strong hand gestures called Mudra. Although the dance itself has strong religious overtones, traditionally, Kathakali performances are major social events for the community and last for good eight to ten hours, usually from Dusk to Dawn! Initiated audiences can identify the characters as being good or bad merely by looking at their appearance. The evolution of this dance form can be dated back to 17th century.
Kuchipudi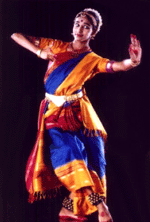 Performer – Shantala Shivalingappa,Photograph courtesy http://www.shantalashivalingappa.com
Known for its graceful movements and intense narratives, this dance form from Andhra Pradesh is (arguably) the most beautiful dance form of South India. Although it originated as a devotional dance form like the other two South Indian dances, Kuchipudieventually also came to be regarded as a dance form for social reforms.
Manipuri
Performers unknown,Photograph courtesy www.wikepedia.com
The term Manipuri is a misnomer, as this is a term given to include a number of dance forms from and around the Eastern Indian state of Manipur. The most popular dance forms within Manipuri style are the Ras-Leela and Phung-Chholom. This form is unique in that the percussion instruments are part of the dance itself, rather than being mere accompaniments! For instance, the Phung-Chholom variety gets its name from Manipuri Mridang – Phung, which is played by the dancers themselves. There are several forms of local dances included within the term Manipuri and it would be unfair to single out a particular dance form as being the true representative of this style.
Odissi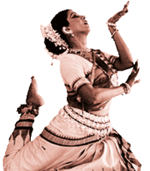 Performer – Late Protima Gauri Bedi,Photograph courtesy www.nrityagram.org
Best known for its attention to aesthetics and technical details, this ancient dance form from Eastern Indian state of Orissa has travelled a broken path to reach its present state, which is unfortunately a reconstruction of the actual classical dance form, which happens to be as old as 2000 years and is mentioned in Natya Shastra itself! It has three distinct roots – the Dev-Dasi form, the Royal court form and the transvestite form. Each one of these suffered a major blow during the colonial period and the entire Odissi tradition faced a near extinction except for a handful of surviving traditional performers, who helped rebuild this dance form in post independence era and re-established it as one of the classical dances of India.
Kathak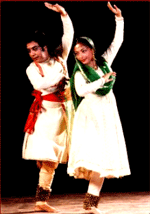 Performers – Padmavibhushan Birju Maharaj and his disciple Saswati Sen,Photograph courtesy www.wikepedia.com
Of all the dance forms of India, this dance form from the Northern states of India has the strongest national and international recognition, perhaps matched only by Bharatnatyam, if only the international presence was to be considered. So popular is this dance form that it is almost considered as the representative of the classical dances from India. Literally, the term Kathak means a storyteller. Thus, by definition this was a dance form devised to narrate stories of Gods in North Indian temples. But as the stage shifted from temples to royal courts, the emphasis of stories also shifted from Gods to entertainment. The present form of Kathak is that practised by Tawayafs (professional dancers), whose role is grossly misunderstood to this date. Tawayafs used to be professional female entertainers of Northern India and Pakistan, who were trained to sing and dance at the same time. Facial expressions and timing were given prime importance and it required the professionalism and discipline of the highest level to be a successful Tawayaf. Unfortunately, the contemporary form of Kathak has somehow forgotten the tradition of storytelling and what has survived is the mere technicality and grace, which are still sufficient to make it the most popular Indian classical dance!
Other Popular dances of India
Mohini Attam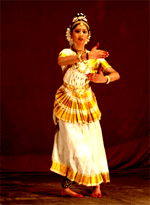 Performer unknown,Photograph courtesy www.wikepedia.com
Bordering on the edge of being called a Classical dance, Mohini Attam is a very seductive dance form from Kerala, which is built on the story of Mohini (an incarnation of Lord Vishnu to save the Gods from Demons' plan of stealing the Amrit).
Garba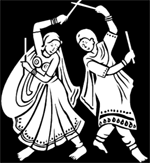 Sketch courtesy www.4to40.com
Garba is a folk dance of the Western Indian state of Gujarat performed mostly during weddings and Indian festival of NavRatri. It is performed to characteristic six beat taal with a pair of sticks.
Bhangra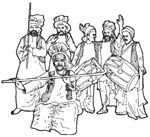 Sketch courtesy www.4to40.com
Probably the most popular folk dance form from India, Bhangrahas become the representative of Punjab all over the world. It is a powerful group dance performed to the beats of Dhol and is inherently merry in nature.